American Toy Fox Terrier Club Specialties,
Regionals & National Specialty Show
ATFTC 20th Anniversary National Show in Oklahoma City June 2023
(More Information Coming Soon)
2022 National Show in Perry Georgia April 17, 2022 (Georgia National Fairgrounds)
Top 20 Competition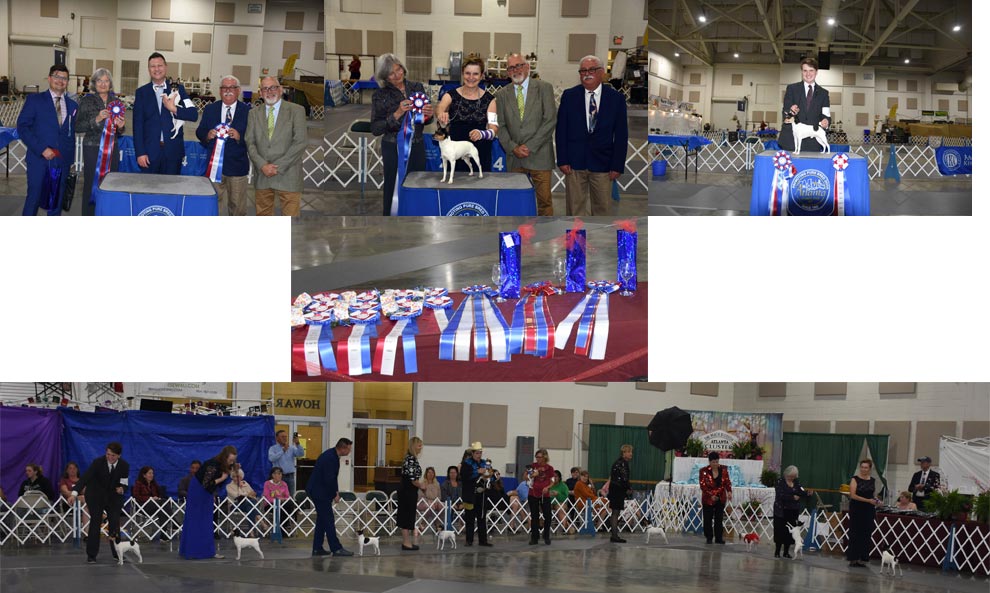 ATFTC NATIONAL SPECIALTY RESULTS
2001 Results | 2002 Results | 2003 Results | 2004 Results | 2005 Results | 2006 Results | 2008 Results | 2009 Results | 2010 Results | 2011 Results
|
2012 Results
|
2013 Results
|
2014 Results
ATFTC REGIONAL SPECIALTY RESULTS
ATFTC CLUBS
(Licensed to hold Specialties)

TOY FOX TERRIER CLUBS
(Formed clubs working on AKC approval)
(Can hold matches but not Specialty Shows at this time)
Midwest Toy Fox Terrier Club of Iowa - icefoxtft@yahoo.com
Toy Fox Terrier Club of Northern CA - fgene@pacific.net

ATFTC REGIONAL TFT CLUBS
REGIONAL GUIDELINES
Any show advertised as or called an "AMERICAN TOY FOX TERRIER CLUB REGIONAL", is a Parent club show and may be held in various locations throughout the United Stated. Such shows must be dedicated to promote the best interest of the American Toy Fox Terrier Club and subscribe to the purposes and principles of the American Toy Fox Terrier Club, Inc.
In an attempt to accomplish the above purposes in a quality, high level of merit performance, one (1) ATFTC Regional per year is recommended to maintain the value and prestige of the honor of winning at such an event. The same prestige one receives when winning the National Specialty. Also, no request will be considered to hold an ATFTC REGIONAL that is to occur six (6) months prior to the National Specialty. A minimum of three (3) months should occur between Regionals.
As the word "Regional" suggests, various geographical areas throughout the United States, clubs are encouraged to apply for holding such an event. It must not be just another dog show. This Regional must take careful planning to promote, encourage, and provide a means of holding a quality show. Breeders, exhibitors, owners, and other interested people of the breed should be sought to attend and promote the Toy Fox Terrier. Educational activities should also be a part of such an event. When requesting to hold an American Toy Fox Terrier Club Regional event, an attached written reason explaining the need, the purpose and why such an event should be approved. One must understand using the "ATFTC Regional" name for the event, the liability and integrity of such an event rests with the Parent Club and therefore, the Parent club must be involved to assure the event is in compliance with the expectations of the Parent Club and the rules and regulations of the American Kennel Club. This is a Parent Club event, hosted by whomever approval to host was given.
Upon written requests to the Board to host such events, the Board will at it next meeting review the request and notify the requesting club of its decision. Affiliate Clubs, in good standing with ATFTC will be given priority to other clubs when making requests to hold a Regional.
Since this is an ATFTC event, a written show report and a financial accounting, and all records will be sent to ATFTC within thirty (30) days of the event. Two (2) marked catalogues will also be sent with this report. The host club will assume the responsibility of all debts incurred during this event, including acquiring Liability insurance to cover the event and any profits become the property of the Parent Club. The Parent Club will offer any support needed to ensure the event is of the performance quality expected for any ATFTC event.